Help for North Okanagan kids who have experienced trauma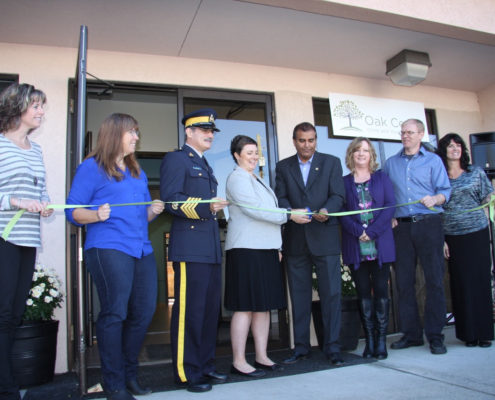 Megan Turcato, Global News Staff -October 20, 2015
VERNON – A new advocacy centre for children and youth that have experienced trauma is opening in Vernon and it is the first of its kind in the Okanagan. The Oak Child and Youth Advocacy Centre, that has been in the works for more than five years, officially opened its doors on Tuesday.
The project is a partnership between six organizations and is being headed up by the Vernon Women's Transition House Society. The centre will help kids who have experienced trauma, including those who need to be interviewed by investigators.
"For children and youth that have experienced abuse or sexual assault [or] maybe witnessed a crime such as domestic violence, they will no longer have to go to the RCMP detachment to be interviewed. They will be able to come to Oak Centre, meet with a police officer and a social worker and tell their story," says Brooke McLardy, the acting executive director of Vernon Women's Transition House Society.
The aim is to consolidate the interview process so kids only have to be interviewed once. In a typical case, a plain clothes RCMP officer would interview the child in one room while social workers monitor the interview from next door. That way both police and child welfare officials get the answers they need without the child being interviewed twice.
"What we found in the system that we have currently is that it is very fragmented, kids are having to run all over town to tell their story and they are telling it multiple times which is very difficult for them," says McLardy.
The opening is particularly meaningful for one Centre volunteer.
"[I'm] very excited it has been a long time coming and it is a great thing for our community," says Krista Blankley. "It strikes close to home for me. I've gone through some similar situations. For me it means a lot because it is taking what use to be such a chopped up thing and putting it all together."
The Centre expects to serve more than 250 kids each year who have experienced trauma. Some will only be seeking support, while others will use the Centre when they are interviewed for criminal cases.
/wordpress/wp-content/uploads/2016/09/OakCentreLogo2.jpg
0
0
oakcentre
/wordpress/wp-content/uploads/2016/09/OakCentreLogo2.jpg
oakcentre
2015-10-20 21:47:45
2018-06-13 21:57:35
Help for North Okanagan kids who have experienced trauma